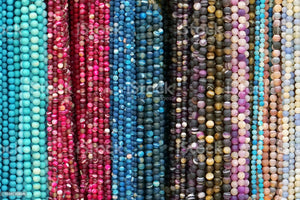 Beads of the World!
I am a silversmith, and although I primarily hand fabricate sterling and fine silver jewelry, I love natural and enhanced beads to bring beautiful color and texture to jewelry pieces.
Beading is also a nice diversion from soldering, sawing, stamping and general studio mayhem from time to time! 
When I attend gem shows, it is really just impossible to walk past table after table of gorgeous strands of beads like you see in the photo without taking some home with me.  I hand string all my necklaces myself, they are on a good quality lightweight beading wire for added strength, and all are finished with sterling silver clasps and extra adornments.
I often combine a complementary beaded strand with a silver pendant with a cabachon stone.  Sometimes the beads speak for themselves, and I create a simple strand.
When it comes to pearls, that is a whole other creative experience!  Pearls are strung on silk cord, and between each pearl is a precisely tied hand knot.  It must be consistent and properly placed for the pearls to lay properly but still have the correct movement.  Pearl knotting is painstaking, patient work, but once in the groove, it becomes a zen activity for me.
I hope you enjoy my beaded necklaces, beaded strands, and occasional beaded bracelet!
---