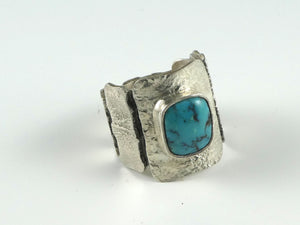 Reticulation Ring Complete!
So... as often happens in my creation process, plans evolve, and this one did too!
The spiny oyster stone I was planning on using ends up being cut too shallow for the depth of bezel needed for this ring.  And yes - it was always going to be a ring!  Eight individual pieces of silver were reticulated and soldered onto a second inside band.  One by one..............   This piece of free form cut turquoise seemed to be a good match so here is the final result!
---
1 comment